AvSport of Lock Haven -- 353 Proctor Street, Lock Haven PA 17745
---

Maintenance Department
Aircraft Condition Inspections
AvSport routinely does Annual or 100 Hour Condition Inspections on our customers' Rotax 912-powered Special or Experimental Light Sport Aircraft. We are a Rotax authorized Independent Repair Centre at the Heavy Maintenance level, certified for Airplanes, Gliders, Weight Shift Control, and Powered Parachutes. We like to schedule your aircraft in our shop for three days (typically Tuesday through Thursday), and will generally spend one day researching logbooks and service bulletins, the second day inspecting the engine and propeller, and the third day going over the airframe. Owner participation is encouraged.

Most aircraft owners believe that their machine is in good, safe condition (otherwise they would not be flying it). Their hope for a condition inspection is, understandably, that it go smoothly and uncover no discrepancies. While we too hope this to be the case, and wish to minimize the costs, the owner, needs to understand that the inspector's attitude has to be "there's something serious buried here somewhere, an accident just waiting to happen, and my job is to do my damndest to find it!" Thus, we will never return to service any aircraft that we don't honestly believe is safe enough for us to fly ourselves.
(1) Flat-Rate Pricing
Our flat rate for a prepaid SLSA condition inspection is discounted to $850. That's for the inspection labor itself, the logbook and service bulletin research, and includes the labor for an oil change, cutting open and inspecting the old oil filter, checking the magnetic chip detector, doing a compression check, measuring the overload clutch torque, replacing all spark plugs, and the required annual inspection and function testing of the ELT. Parts and squawks are extra. All aircraft maintenance in PA is exempt from sales tax.
For a routine annual of a Rotax 912ULS-powered aircraft, the expected materials are three liters of AeroShell Sport +4 oil at roughly $10/each, eight NGK plugs totaling approximately $32, a Rotax oil filter at around $25, about three bucks worth of crush gaskets and O-rings, and up to $12 for coolant and distilled water. Other costs are the oil recycling fee ($5) and $10 worth of consumables. So, figure just over $100 or so in additional costs, if we find no problems, keeping your total condition inspection below $1000. (These prices are of course subject to change without notice -- ask first!) If you have unresolved maintenance issues, or outstanding service bulletins, or if we uncover additional squawks, your mileage will of course vary.
(2) Service Bulletins
The flat-rate condition inspection includes research into the status and applicability of all Safety Directives, Alert Service Bulletins, and Service Bulletins. It does not include the cost of compliance with those service bulletins for which action is indicated.
Safety Directives and Alert Service Bulletins are mandatory compliance items, carrying the same legal requirements as Airworthiness Directives do for standard category aircraft. If they are applicable, the aircraft cannot be returned to service or considered in a condition for safe operation until they have been complied with. Compliance with such bulletins, when applicable, will be completed on a time-and-materials basis, at a labor rate of $85/hour. Should the owner specify that he or she does not wish them completed, the aircraft cannot and will not be signed off by the mechanic as being in a condition for safe operation.
Unless the subject aircraft is in commercial service, all other service bulletins (even those designated by the aircraft manufacturer as being Mandatory) are considered optional, and compliance will occur purely at the discretion of the owner, to be billed on a time and materials basis. Most service bulletins document the average person-hours of labor required for compliance, as determined by the manufacturer, so we should be able to give you at least a rough estimate of the anticipated costs.
Compliance with optional service bulletins will never be performed prior to consultation with, clear instructions from, and specific authorization from the aircraft owner! Should we suggest compliance with such a service bulletin and you elect to forego it, your logbook entry will indicate that compliance with this particular service recommendation was declined by the owner, as permitted by regulations.
(3) Squawks
Any squawks are cleared at parts plus labor (at $85/hour). It helps if you send us the squawk list in advance, so we can do some research and gather required materials. We also need the engine, airframe, and prop models, manufacture dates, and serial numbers before we start, so we can do the SB search. If the airplane stays on the field for an extended period of time, the city (who owns the airport) may assess you a tiedown fee (we have no control over that).
Clearing of squawks will never be performed prior to consultation with, clear instructions from, and specific authorization from the aircraft owner! Should we suggest optional maintenance which you elect to forego, your logbook entry will indicate that compliance with that particular recommendation was declined by the owner, as permitted by regulations.
(4) Manuals and Documents
If you already have hard-copies of your aircraft's manuals and service bulletins, that saves us from having to print them out from PDFs and charge you for toner and paper. It's always best to work with actual paper checklists, service manuals, service bulletins, maintenance manuals, and Illustrated Parts Catalogs laid out in front of us. AvSport requests that, in addition to aircraft, engine, propeller, and avionics logbooks (as applicable), the owner provide us with the aircraft equipment list, weight and balance, registration, airworthiness certificate, and operating limitations documents, as well as any existing service bulletin compliance records, and all required Letters of Authorization for any modifications or added equipment. Should such documents be required and unavailable, AvSport will charge the owner its customary shop rate for time spent acquiring them.
(5) Modifications
FAA and ASTM rules require that, in the case of a Special Light Sport Aircraft (SLSA), any aircraft modifications and equipment changes require a Letter of Authorization (LoA) from the airframe manufacturer. If such modifications are present and no LoA has been obtained, AvSport cannot legally return your aircraft to service following a Condition Inspection. Please ensure that all required LoAs are in order and in hand before bringing us your aircraft for inspection. If you need help obtaining LoAs from the manufacturer, or (should none be available) if you want your aircraft restored to original licensed condition, AvSport stands ready to assist you on a time plus materials basis.
Extensive airframe or engine modifications can increase the time and effort required for us to complete your annual inspection. This may increase labor costs beyond our normal Flat Rate. Please be prepared to discuss any known modifications with us at the time you make your inspection appointment.
(6) Work Orders
AvSport will always send maintenance and inspection customers a work order in advance, which needs to be signed and returned at the time your appointment is made. The form is available online, and we encourage you to review it before you schedule your inspection.
(7) Relevant EAA Webinars:
(8) Acknowledgment:
Much of what I know about condition inspections I learned from Mike Busch, A&P/AI, founder and CEO of Savvy Aircraft Maintenance Management. I have incorporated many of Mike's recommendations into AvSport's maintenance policies. I am grateful to Mike for so willingly sharing his extensive knowledge and experience with his fellow EAA members.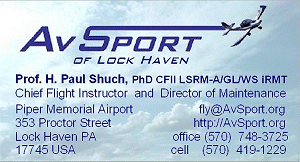 Contact Prof. Shuch

If you can drive, you can fly!
---
.

.

|- Home -|- Menu -|- About -|- Instruction -|- Aircraft -|- Maintenance -|- Events -|- Press Kit -|- Contact -|- Search -|
Copyright © AvSport of Lock Haven, a subsidiary of Microcomm Consulting
This page last updated 18 May 2016


Top of Page